Swedish Champion
Kingsleah Starlight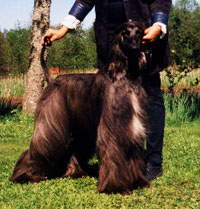 Alias: Lola
Sex: Bitch
After: International & Nordic Ch Gold'n Copper Blue Print
Under: Swedish Champion Kingsleah Footprints Of Smokey
Born: 1995-04-22
Breeder: Gunilla Holmgren, Kennel Kingsleah
*Deceased*


Lola the record breaker!
Lola was known worldwide to be the record breaker with her 18 healthy born puppies. She only had two litters, but ... 14 puppies in the first and 18 in her second and last litter! 32 puppies in just two litters!!!
Lola came from the famous Star-litter, sister to Svinto and a multi championproducer.
BIS Progeny Group at the Specialty in Bosjökloster 2001.
Lola was loved by all she met, judges, people and dogs, and she reached the age of 12 years when it was time to let her go.
Pictures



Pedigree
International & Nordic Ch Gold'n Copper Blue Print
SBIS/BIS USA & CAN Ch Qamari´s Rainbow Rider
USA Ch Jeherans Aqcent Of Qamari
USA CH Qamari's Charming Alibi
Swedish & Norwegian Ch Xenopho Midnight Blue
AUST CH Kelzarki Blue Spruce
AUST CH Xenopho San Francisco
Swedish Champion Kingsleah Footprints Of Smokey
Swedish Champion Khandhu Acrobatic Ace
SBIS AUST Ch Pierhelo Cointreau
Multi SBIS/BIS & AUST Ch Raushan Copa Cabana
Multi SBIS Aust, International & Nordic Ch, Norweigan Winner-88 Khandhu Smoke Screen
Multi SBIS/BIS & AUST Ch Khandhu Laser Litefoot
Universe Zizanie