Thank You De Darjeeling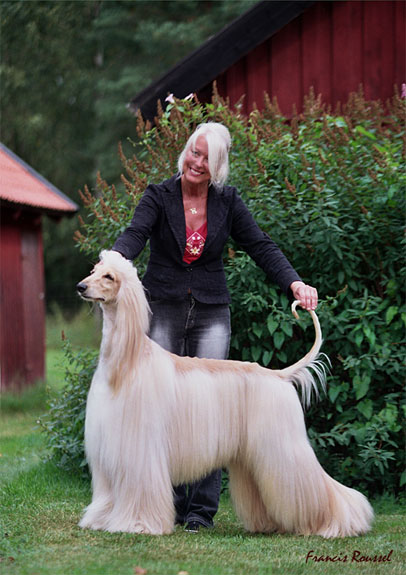 Alias: Tack
Sex: Dog
After: Swedish Champion Khandhu Acrobatic Ace
Under: New Waves De Darjeeling
Born: 2002-07-20
Breeder: Marc Millier, France
Owner: Gunilla Holmgren and Lena Andersson
*Deceased*


Tack is sired by our Australian import Ch Khandhu Acrobatic Ace "Sidney" by frozen semen, born and imported from France 2003. Today he is the only living son by Sidney.
Tack is the grandson of the worldfamous Top Afghan and Australian SBIS & BIS Ch Raushan Copa Cabana.
Tack is a cousin of the influential producer, Aust SBIS Ch Karakush True Blue, known as Banjo.
Tack is a CAC & Multi Specialty Classwinner.
Tack produced a lovely litter at Sari Laakso´s in Finland.
Pictures







Pedigree
Swedish Champion Khandhu Acrobatic Ace
SBIS AUST Ch Pierhelo Cointreau
Multi SBIS AUST CH Kabiks Limelite Of Aries
Pierhelo Mopet Popette
Multi SBIS/BIS & AUST Ch Raushan Copa Cabana
Multi SBIS/BIS & AUST Ch Khandhu Laser Litefoot
AUCH Raushan Wanton Affair
New Waves De Darjeeling
French & International CH I'tilim M'dohm Du Mont Isis
International CH Kabik's Alimar Prerogative
Spanish, French & Internationell Ch Biou San Blue Love Du Mont Isis
East Of Eden De Tchekana
USA Ch Cachemire De Tchekana
FRCH INTUCH Bagaya De Tchekana